Korea is famous for its huge variety in alcohol. Often, foreigners are simply lost, not knowing what kind of alcoholic products are worth trying. We suggest you to get to know TOP 5 best alcoholic beverages that deserve your attention:
소주 (Soju)
Soju is a traditional Korean drink with ABV (alcohol by volume) of 20 to 45%. The variety of tastes is so great that it is usually divided into "female" and "male" types. Korean girls prefer to drink soju with various flavors of berries and fruits. The most popular type is blueberry soju, as well as a peach one.
맥주 CASSE (CASSE beer)
It's a mild beer, usually 5% ABV. It has a pleasant aftertaste and is easy to drink.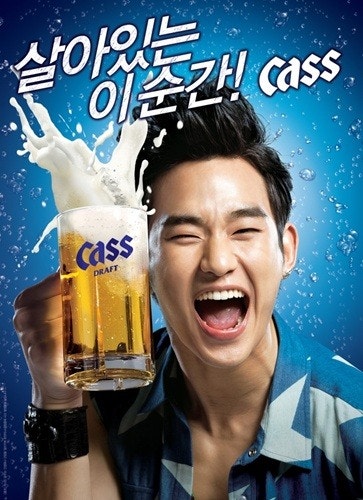 바나나 막걸리 (Banana makgeolli)
Banana makgeolli is a traditional Korean drink, ABV from 6.5 to 7%. This drink has a sweet, banana flavour. It is pleasant to drink, but you shouldn't mix it with other beverages.
부라더 # 소다 (Purado Soda)
This alcoholic drink has ABV 3%. Its taste is reminiscent of soda, which attracts Koreans as well as tourists. It is easy to drink, but, despite of a small proof, you can easily get drunk.
이술톡톡 복숭아 (Eesul TokTok Peach)
This alcoholic drink has ABV 3% and a pleasant, sweet peach flavour. The drink is carbonated, with a slight taste of alcohol, which gives a special flavour. It also smells like ripe peach.
Jeanne @ kjcpop.com